Gold Coast Hinterland Wedding Venues
Gold Coast Hinterland Wedding Venues
The are so many gorgeous hinterland wedding venues around the Gold Coast, from Summergrove Estate to Cowbell Creek, Austinvilla Estate, Ecostudio Fellini, Boomerang Farm.
Designed with relaxation, romance and lifestyle in mind, the unique hinterland charm of Summergrove Estate is guaranteed to create a lasting impression of your wedding day. The magnificent outlook from our grounds create infinite photo opportunities to capture those precious moments forever. This Estate radiates an intimate atmosphere of magic and romance, making Summergrove Estate one of Australia's most picturesque and enchanting wedding venues.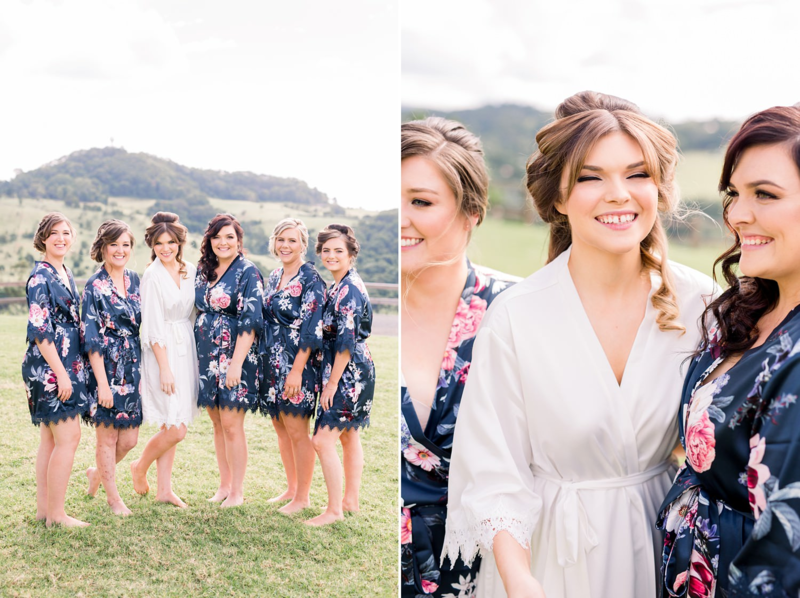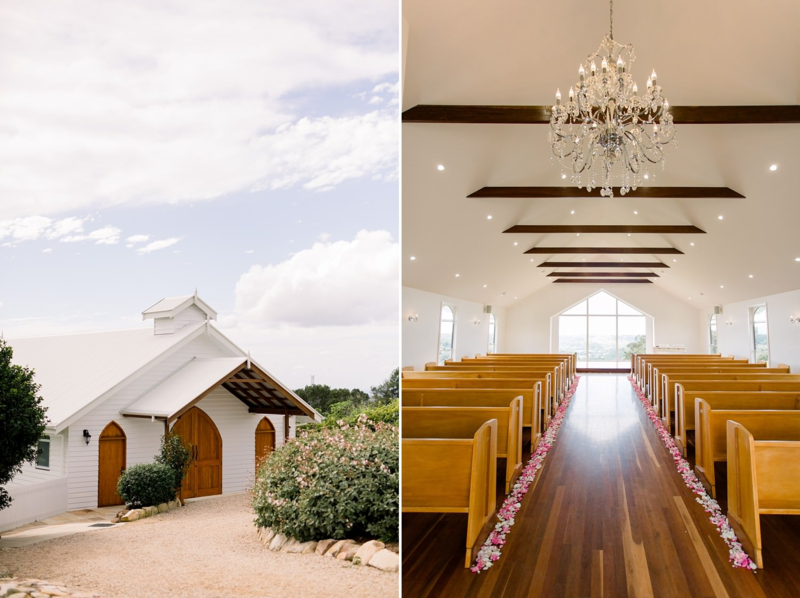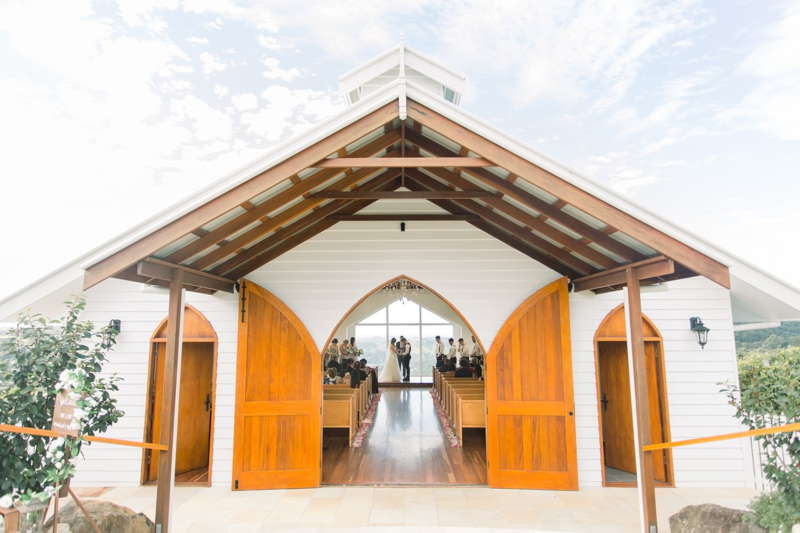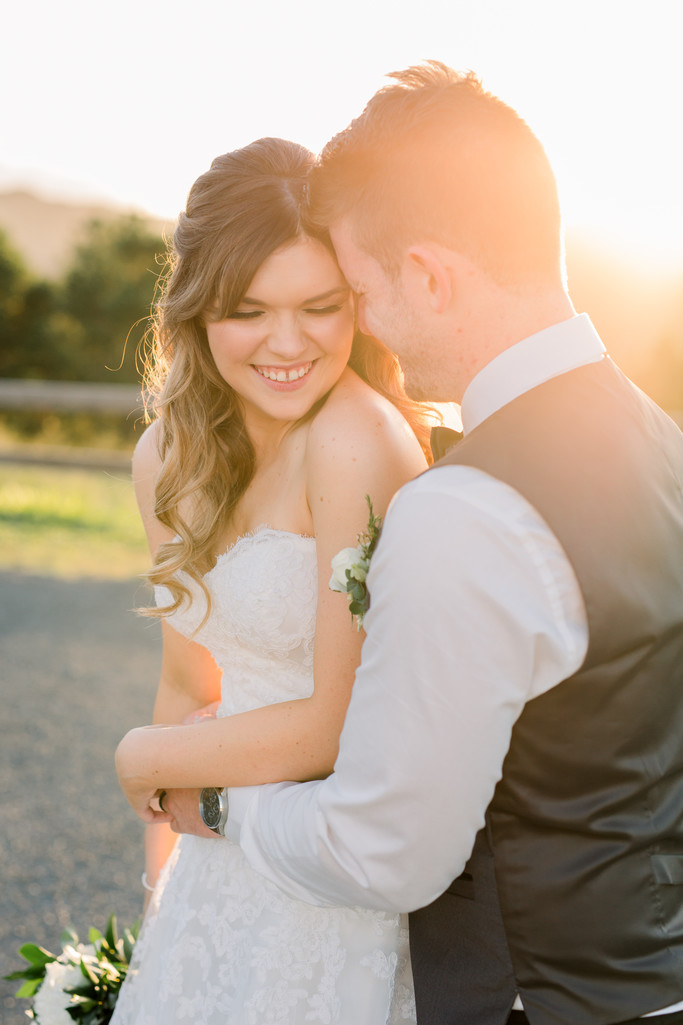 Nestled amongst 111 acres of beautiful manicured lawns and romantic woodlands, Austinvilla Estate is a beautiful country property, the perfect intimate setting for celebrating your special day.
The Austinvilla Estate has been lovingly restored, yet still retaining it's rustic vintage charm. Located 15 minutes from Robina and neighbouring Springbrook National Park, nature is on your doorstep.
With an onsite wedding chapel, beauty salon, accommodation options (including boutique cottages, bunkhouses, treehouse and a bridal suite), and the homestead as your event space, Austinvilla Estate is your all-in-one wedding venue. A large undercover deck adorned with chandeliers and festoon lighting sets a romantic atmosphere for your evening reception.
For your ceremony, choose between the pavilion style Chapel and the Rainforest Deck. Follow a candle-lit path to the Chapel which is in a secluded woodland spot surrounded by lush native trees with rustic signage and benches, and antique signing table and chairs. The Rainforest Deck looks out over the rainforest which is decorated with chandeliers, timber arbour, timber benchseats, floral arrangements, farmhouse signing table and chairs, and festoon lighting.
There are many locations around the property that provide beautiful photo opportunities – the romantic love swing and country landscapes.
The Homestead is a vintage inspired traditional homestead combined with rustic charm amongst a romantic rainforest setting. Picture long farmhouse style tables, white linen, brick walls for warmth and texture, vintage timber chairs, flickering candles, stained glass and chandeliers as the space for your evening celebrations. With a farm to table philosophy and award winning chef, all you foodies can be guaranteed a delicious menu.
No doubt the Austinvilla Estate team will make you feel right at home and your big day a memorable experience.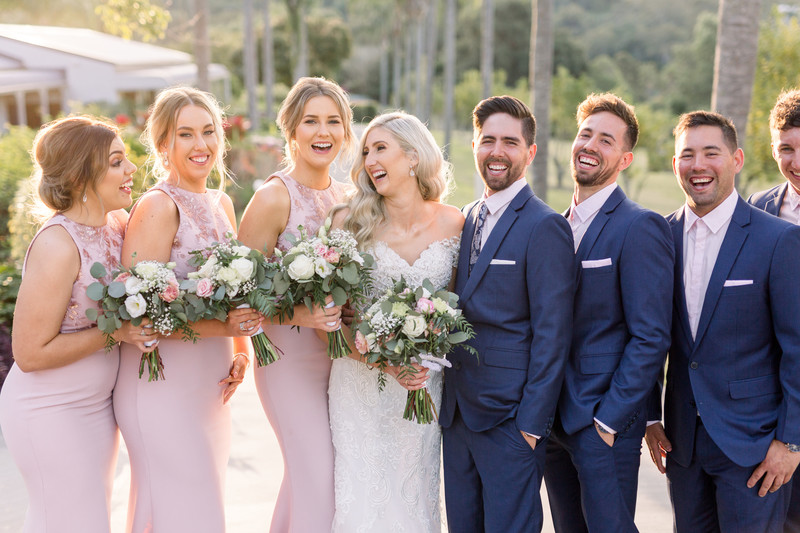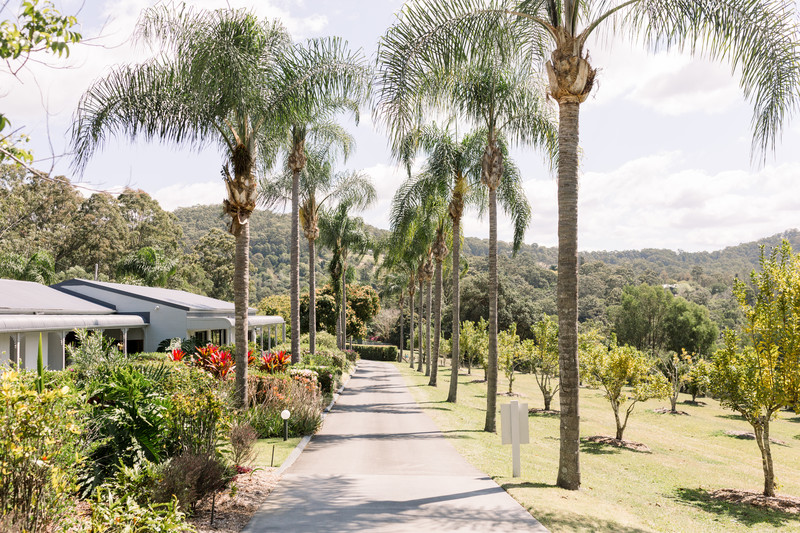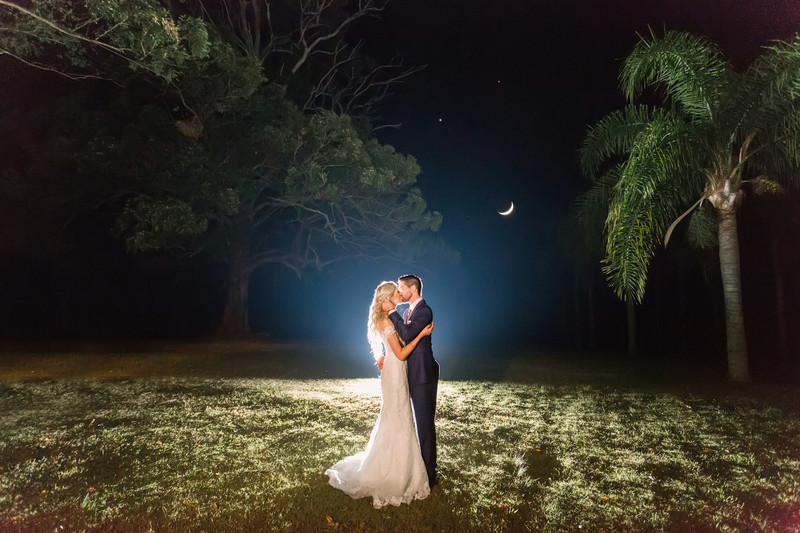 Boomerang Farm
One of the Gold Coast's more unique wedding venues, Boomerang Farm is on the banks of the Mudgeeraba Creek set amongst the rainforest.
A unique property on 200 acres and includes a golf course, barn style reception venue, rainforest chapel and ambience all of its own.
Boomerang Farm is just 25 minutes from the beaches of Surfers Paradise, you will find yourself in a romantic rainforest setting, idyllic for a private and intimate wedding.
The property boasts many locations for your wedding photos. From the hidden treehouse to the meandering stream, rustic barn, green fairways and lush trees, to create beautiful natural wedding photos.
The open-air rainforest chapel is perfect for your ceremony. Then mingle with guests on the lawn, before entering the barn for your evening reception.
Whilst there is no accommodation onsite, there is plenty of accommodation options in nearby Tallai, Worongary, Surfers Paradise and Burleigh Heads.
If you are considering having your wedding at Boomerang Farm on the Gold Coast, here are some great weddings for inspiration!
Hopefully this give you an idea of what a wedding at Boomerang Farm could look like! If you are looking for a photographer for your wedding at Boomerang Farm, I would love to discuss your plans! Fill out the contact form at the bottom of the page to check date availability and receive our price list.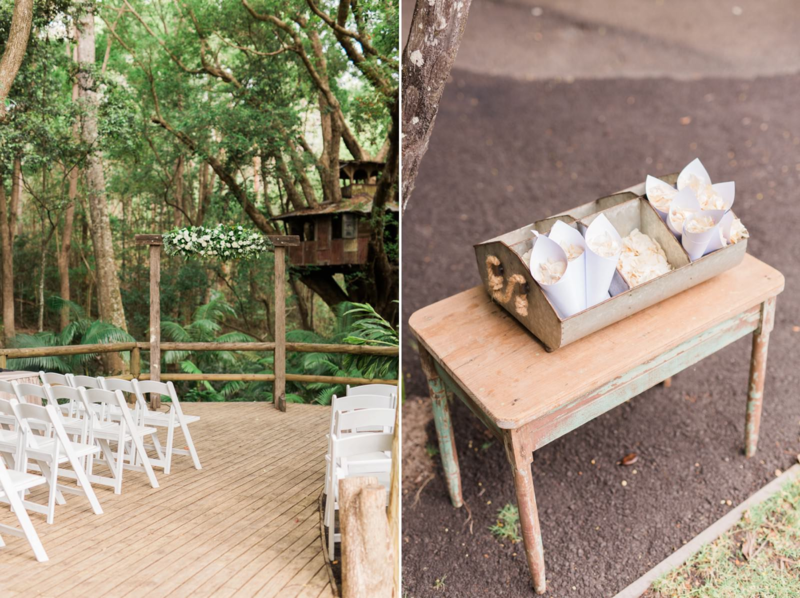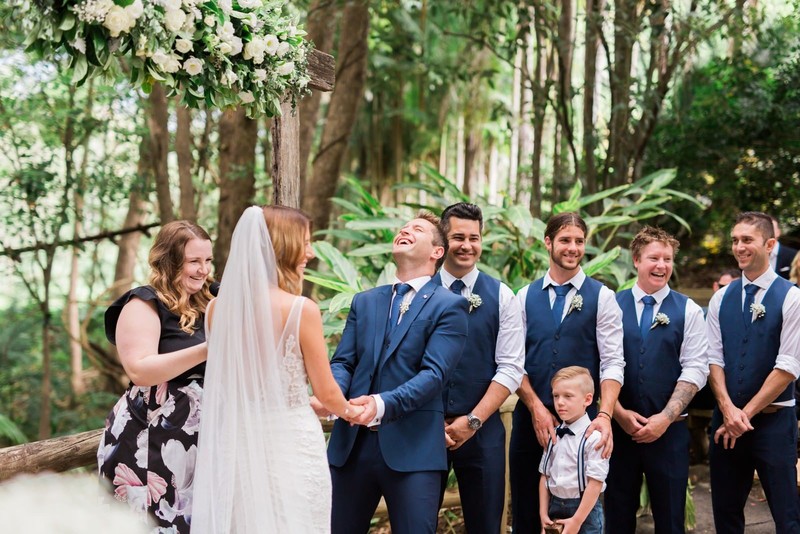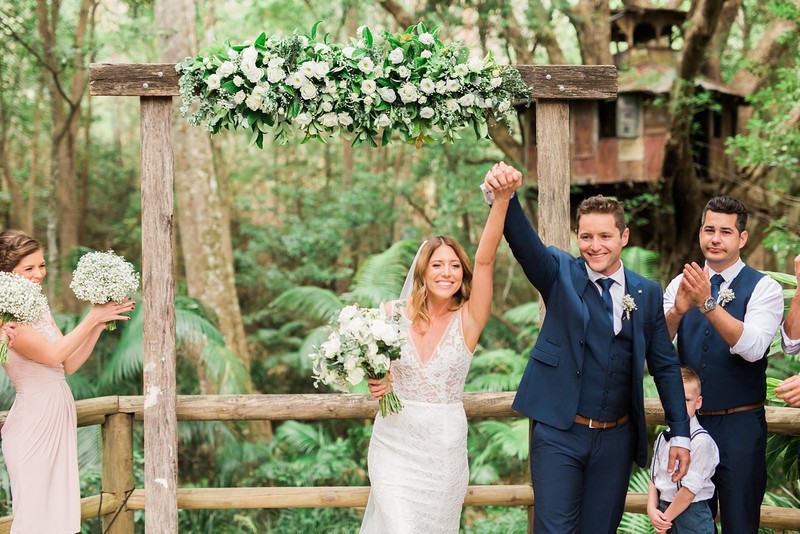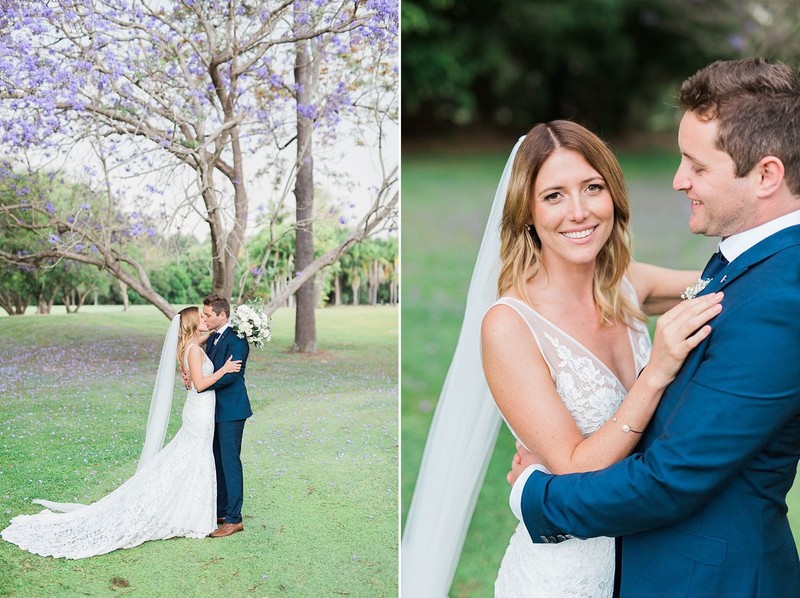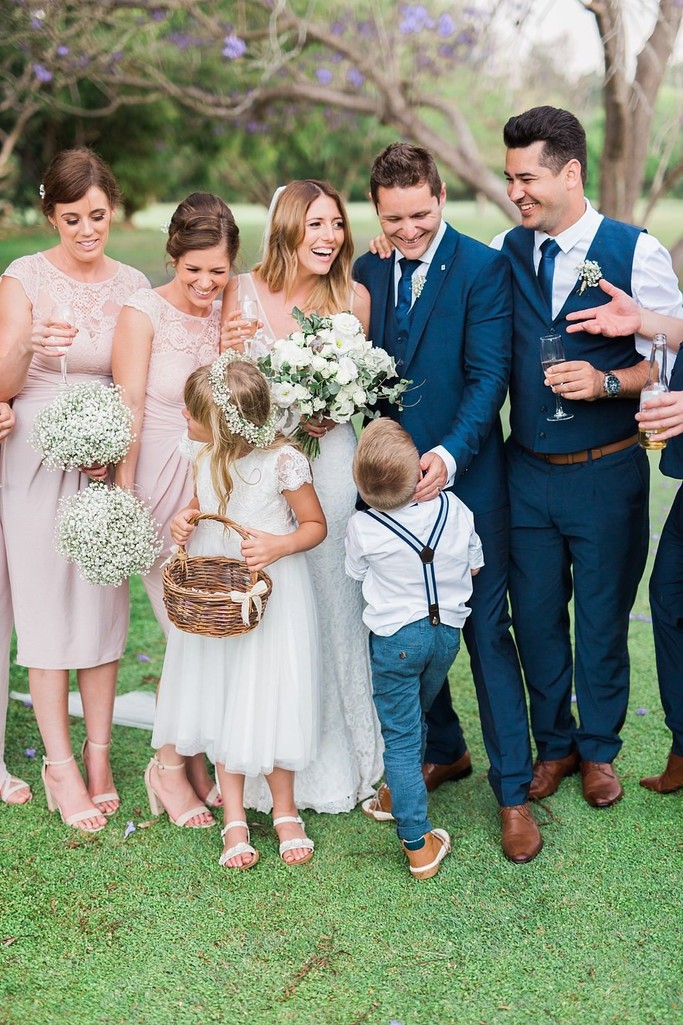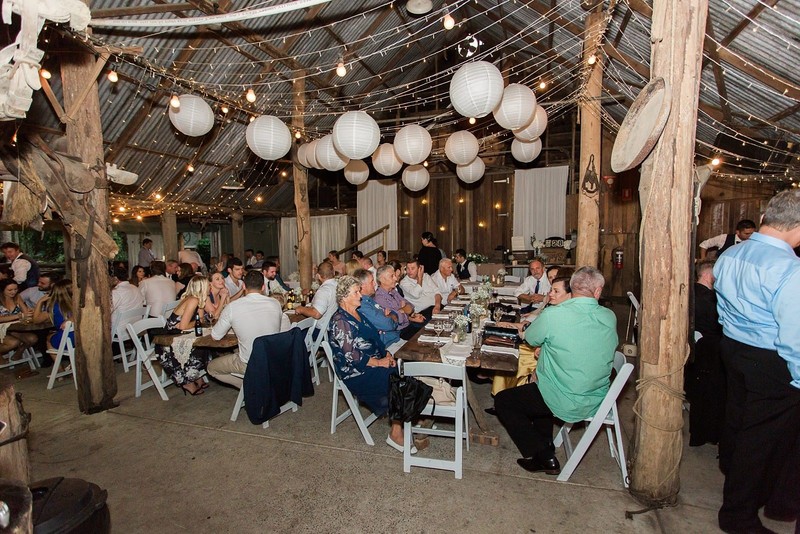 Cowbell Creek
Cowbell Creek is just 10 minutes from Mudgeerabah and 15 minutes from Robina Town Centre but worlds apart from anywhere you have been before.
THE WEDDING CEREMONY

Cowbell Creek has purpose built ceremony area, with a retractable roof pergola by the creek at the foot of Mt Nimmel. Offering privacy, protection and individual style.
THE WEDDING GARDEN PARTY

During your photoshoot you can treat your guests to a pre-reception Garden Party complete with drinks, croquet, lawn bowls and party games. The Wedding Garden Party works as a relaxed transition from the formality of the ceremony to the party atmosphere of your reception, guests can mingle and become acquainted in a relaxed and fun setting. The Wedding Garden Party is a great way to set the overall mood for your wedding, it is also a great opportunity to take some informal pictures with guests.
THE WEDDING RECEPTION

Your wedding reception can be anything that you want it to be. Our barn can be used as is or styled to evoke any mood, with soaring ceilings, traditional barn features and various zones for dining, socialising and dancing. There are large farmhouse tables for a sit down meal and wine barrels to create a cocktail setting. We have plenty of room to create lounge areas, dance floors and fireplaces that ooze cozy ambience. The scope of your wedding reception is limited only by imagination, let us show you what is possible at a cost that would be unthinkable anywhere else.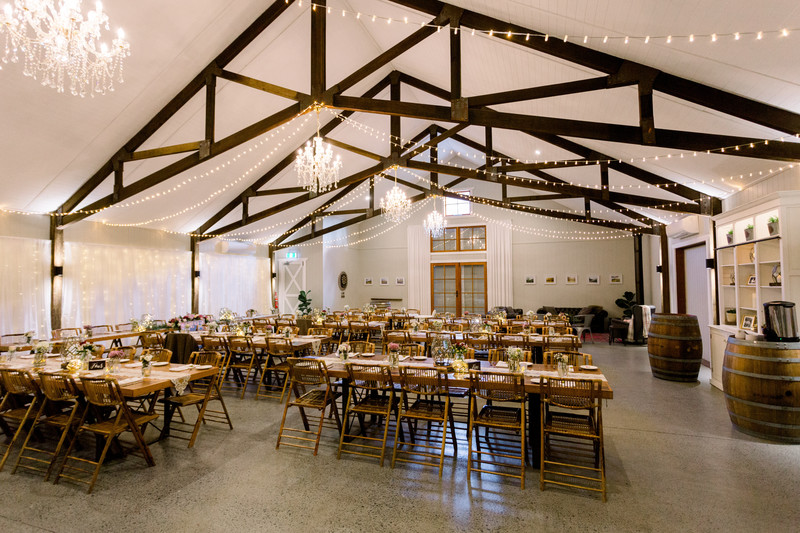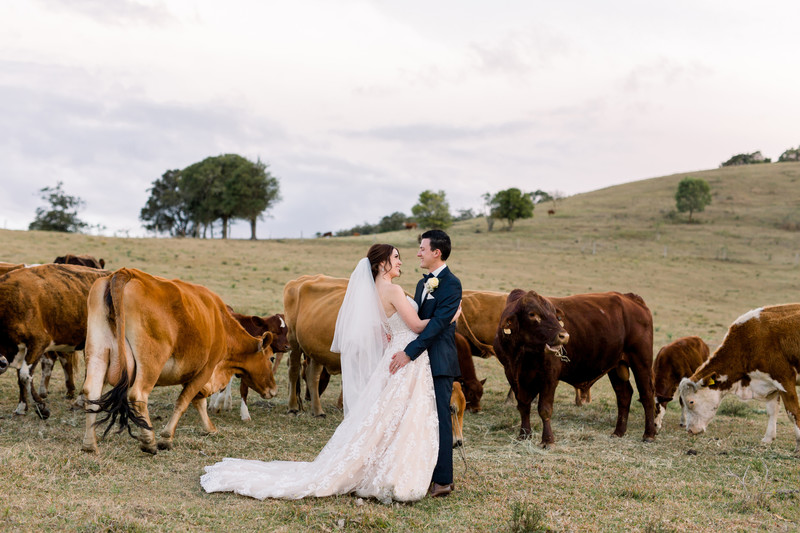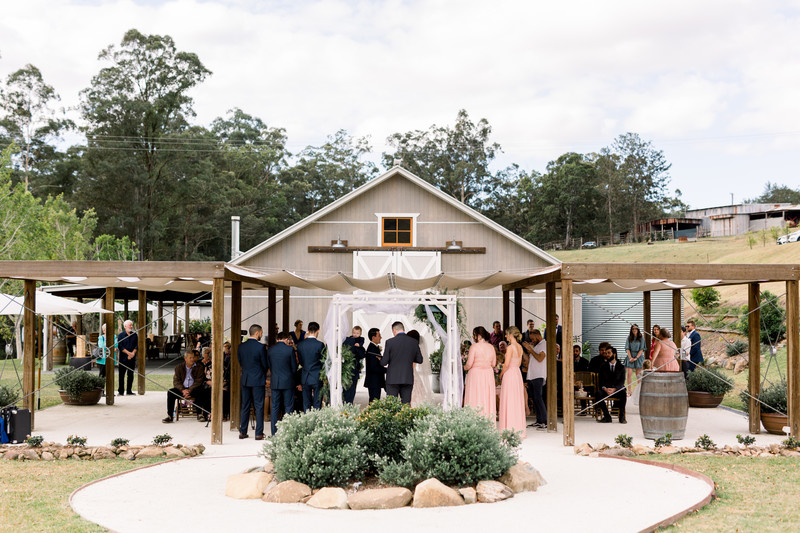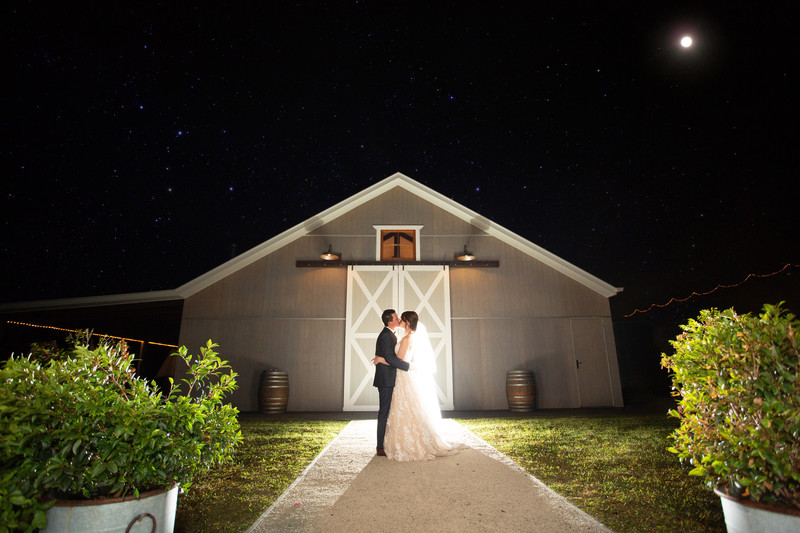 ©2018. Gold Coast Wedding Photographer, Mario Colli - +61 406 760 278 - info@mariocolliphotography.com